This is a back-up re-post from August 2012. Somehow Google's Blogger system lost this and a couple of other posts. Lightning safety awareness is why I thought it was important to re-post this from my back-up.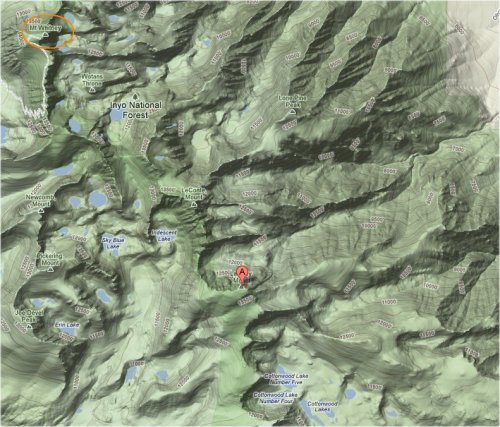 Mt. Langley, marked with an "A" is the mountain I climbed last August. Mt. Whitney is at the upper left.
Click this link for larger map.
---
Climbing up Mt. Langley's 14,042 feet was the easy part. Getting down alive was a bit tricker.
The seven-mile hike from Horseshoe meadows was pretty easy and the additional three or four miles to the summit was smooth except for the short class three scramble (The Yosemite Decimal System rating climbs says Class 3: is "Scrambling with increased
exposure
. A rope can be carried but is usually not required. Falls are not always fatal.")
Not always.
But that was not my problem either.
What WAS the issue was the weather. And staying alive. First Issue: As I was coming up toward the summit, everybody else was coming down. I went on up. Second issue was all the clouds coming in. Some of them ominously dark, just above my head. And their bigger siblings closing in from the distance.
Thunder clouds at Mt Langley. Damn close to straight up to summit. Click image to enlarge.
So I took my last photo (above) and scrambled up over the steep class three rocks like a mad man.
A NAPA TRAGEDY UPPERMOST IN MIND
In the forefront of my mind was friend and St. Helena Boy Scout leader Stu Smith ... of Smith-Madrone Winery. Almost exactly seven years ago -- July 29, 2005 -- Stu was leading a group of seven scouts and five adults from the Napa Valley on the seventh day of a nine-day camping trip in the Sequoia National Park.
That day, they were near Sandy Meadow, west of Mt. Whitney and about eight or nine miles northwest of Mt. Langley where I was racing the storm.
Lightning struck. My friend Stu was injured but survived. Assistant scout master Steve McCullagh, 29, was killed. Scout Ryan Collins was truck brain dead.
The scout's organs were donated to save other lives. It took five helicopters to evacuate the rest of the injured. My son, William, was 12 at the time. We attended the memorial service for Collins. The day stuck in my mind.
Up on Mt. Langley, if I had the time and stopped to look, I could have seen the spot of that tragedy.
Then the third issue arose. I was within sight of the register to sign that signified that I had completed this 14K peak. Within sight of the USGS marker that I could take a picture of with my boots.
I ran like hell to reach it. Then the hair on my forearms stood up. Static electricity.
My research on lighting prompted by the earlier deaths told me that was a harbinger of immediate lightning. I made a descent from the summit that was less like running and more like Buzz Lightyear's "falling with style." Without the style part.
Class three scrambling? Hell, I don't even remember that section. I flew. In record time, I was several hundred feet below the surface. Thunder came from the summit. The memory of Stu's scouts just may have saved my life.
The mountain will always be there for me to sign. And thanks to Ryan, Steve & Stu, so will I.